STARS EU secures funding to become European University
The European University initiative STARS EU has won a grant in the 2023 Erasmus+ European Universities Call. The Alliance, coordinated by Hanze University of Applied Sciences, will continue to deepen its existing cooperation to advance the higher education transformation process towards full 'European University' thanks to the €12.4 million awarded.
The European Commission approved seven alliances under the 2023 Erasmus+ European Universities Call, which add to the ones previously funded in earlier calls. So, after this call, there are a total of fifty European Universities. The grant received by STARS EU will support the Alliance to expand and implement its long-term vision to create structural societal impact on a local, inter-regional and international scale. The goal of the Alliance is to accelerate regional transformation toward a more sustainable future.
The grant will also contribute to  STARS EU becoming a leading actor in world-class education and research, offering both an, inclusive, student-centred learning experience to citizens from the entire world while also supporting a truly collaborative multi-disciplinary, challenge-based research environment.
"All the universities that are members of the STARS EU alliance are excited and willing to learn from each other to improve the quality of their education and research, and to help strengthen Europe together. Moreover, the funding will bring us further in our ambitions to make an impact in the world we are living in and tackle societal challenges together. It is a great day for the Alliance, but more importantly for our students, partners and Europe as a whole ", STARS EU coordinator Dick Pouwels from Hanze UAS, says.
Transforming regions. Empowering people
STARS EU is an existing alliance of nine universities from all parts of Europe who share the same European values and who want to contribute to a sustainable future for Europe and the World. By sharing our knowledge and ideas, STARS EU empowers people to learn, grow and broaden their world.
The STARS EU partner universities are: Hanze University of Applied Sciences (The Netherlands), University of La Laguna (Spain), Polytechnic Institute of Bragança (Portugal), Bremen University of Appiled Sciences (Germany), Silesian University in Opava (Czechia), University West (Sweeden), Cracow University of Technology (Poland), University of Franche-Comté (France) and Aleksandër Moisiu University of Durrës (Albania).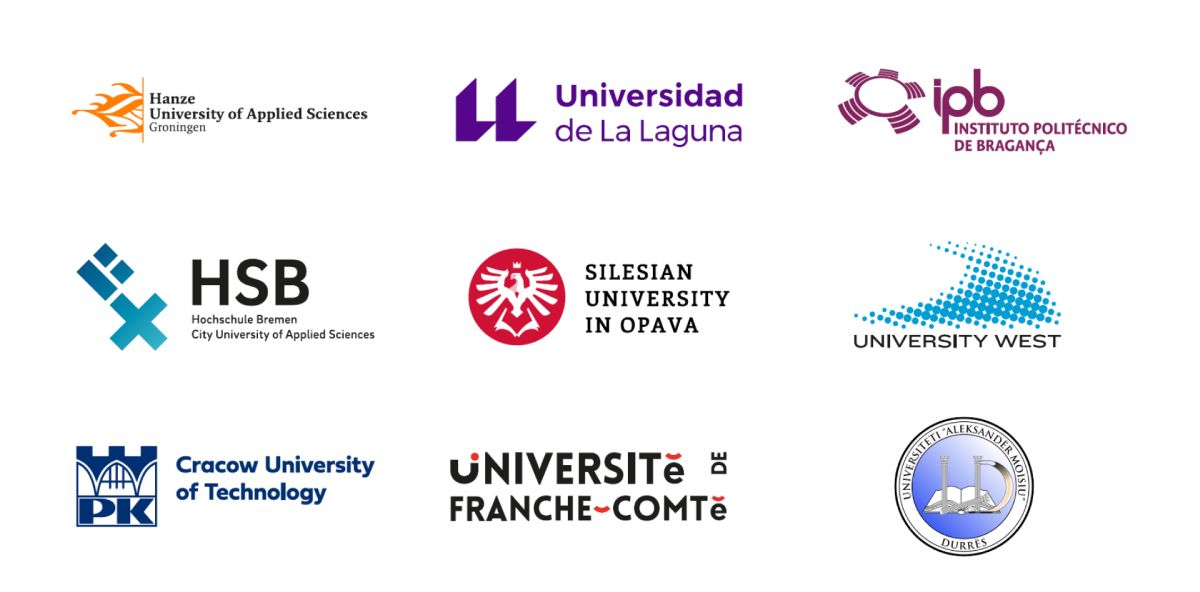 The members of STARS EU are regionally connected universities committed to working with local and regional partners to contribute to real positive change. All members share the desire to build universities without walls to the outside world thereby creating greater societal impact for their education and research.
In 2019, Hanze University initiated the STARS EU Alliance. Since then, the alliance has built successful collaboration between its partners that has resulted in new cooperation structures, innovative tools, programmes and practices in which students, teachers and researchers can join.
The alliance has brought together academic staff of different disciplines and universities within Thematic Interest Groups. Engaged external stakeholders have also been invited to the activities of the STARS EU Regional Transition Accelerator to help regions speed up the transition to a more digital and sustainable society.
European Universities
STARS EU contributes to implement the European Universities Initiative: one of the activities through which the EU aims to create a European High Education Area. The EU encourages international alliances between different European universities, aiming to promote European values and identity as well as strengthen the quality and competitiveness of European higher education.